Technology Transfer of the Negotiating Solutions® Workshop




Negotiating Solutions® is based on three premises: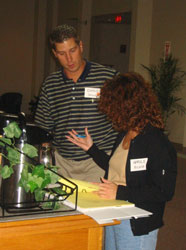 The purpose of our behaviors is to achieve our objectives in a particular environment. We do things to get what we want and need for ourselves and for those we represent.


Negotiation underlies most of our behaviors at work. Whenever we need to solve problems, craft solutions, and shape agreements with others over whom we don't have direct control, in a mixed-motive environment, we're negotiating. But we were taught to negotiate by people who came before us, who were taught by those who came before them, about how to be effective in an environment that presumably existed when these behaviors were first codified.


Sometimes the environment changes so much that behaviors that were core to our success are actually working at cross-purposes to our own objectives. Now is such a time. To achieve our objectives, we must change the way we work with one another — cross-functionally, between employee groups and management, and in the marketplace with suppliers, customers, regulators, and partners.
And a fourth premise: If individual behavior change is hard, significant and lasting behavior change across an organization is mind-bogglingly difficult. We can improve behaviors within our current model through skills training. But when the model itself can no longer solve the problems we need to solve or realize the opportunities we want to realize, skills training can't change people's behaviors. We can learn how, but the different behaviors don't last; our model pulls us back into old, familiar behaviors.

So how is behavior change possible? When we realize that our behaviors flow out of deeply held and largely unexamined assumptions, which flow out of our behavioral paradigms - our invisible models for how to make the world work - the path becomes clear. To change behaviors (individual or organizational), we need to get to the invisible model that drives our assumptions and our behaviors and change it. This is where experiential education at the paradigm-shift level can be powerfully effective and efficient.

The Mattford Group's Negotiating Solutions® workshop is the only program in interest-based negotiation - designed for the aviation/aerospace industry, but equally useful for those organizations committed to significant culture change - that takes most participants through to the paradigm-shift level. And the changes last. Years after attending, graduates demonstrate daily the usefulness of this alternative model as they create value with their counterparts while crafting far better solutions for their constituents.

To transfer the technology.


For your company to embed this program in your training curriculum for continued availability, so you can train hundreds to thousands of people at very low cost per person, and/or offer it to those in your network (customers, suppliers, partners, etc.), consider licensing the program.

The workshop design itself allows for effective transfer. The design is operational rather than academic. It does not depend on subject matter experts, and it is scripted for ease of transfer and consistency. It can be facilitated by experienced human resources people (skilled in educational, group and psychological process, and willing to dedicate several years to the program) paired with respected and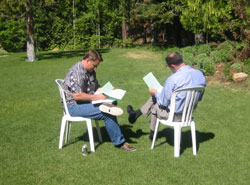 experienced functional managers, so long as this is a path that they themselves are on - however imperfectly - and so long as they have genuine and contactful presence in front of a group and mean well by their students.
The Mattford Group does require that the workshop be run in its entirety and residentially and that it be identified as The Mattford Group's Negotiating Solutions® workshop. We work with you to identify your own content and process co-trainers, and we tailor with you a train-the-trainer sequence for them. We monitor your initial workshops and/or co-teach parts of them to confirm delivery quality before your trainers are launched and fully on their own. Your trainers determine their readiness; we advise/consult. Our program manager works with your program manager/administrators on materials and workshop administrative procedures and checklists. And we remain available to you for advice and problem-solving relative to workshop delivery, or to share ideas about how to incorporate these concepts into your planning procedures, performance appraisals, hiring criteria, etc.
Cost elements include:
a one-time non-exclusive technology transfer fee,
an annual and renewable non-exclusive licensing fee, and
a per student royalty.
The technology transfer fee is based on the number of people in the targeted population, jointly agreed upon train-the-trainer activities, and materia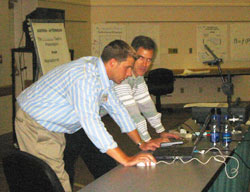 ls/program administration coordination and transfer. Annual renewal of the license is based on the workshop being run to contractual requirements (five day, residential, etc.) with at least three workshops being run per year. Once the population covered by the technology transfer fee has been trained, there will be a per student royalty for additional attendees.

Materials Development: The practice negotiations are already set in an aviation industry environment. Should you want alternative mini-negotiations, design cost would be billed on a per diem basis ($7,000/day away from the office; $5,500/day in the office) plus actual and reasonable business class travel and lodging expenses. The Mattford Group would retain the copyright to these cases.



Should you want to learn more or discuss your specific interests and needs, please contact us at mattford@aol.com or by calling 775-832-5300 / 775-846-2511 (cell) (Pacific Coast time).