Since 1988, The Mattford Group has provided just one product: a week-long, residential, intensive, immersion, highly experiential, paradigm-shifting workshop in interest-based negotiation.



The program is called Negotiating Solutions.

Our graduates call it "boot camp for culture change."

It is not about "sharpen your pencil" and "you've got to do better than that." Negotiation - which Newsweek magazine calls "the game of life" - underlies most of what we do every day in organizations - how we solve problems, shape solutions, and realize opportunities with others over whom we have no direct control, in what is called a mixed-motive environment.



Our served industry is aviation and aerospace, though the program has proven to have great value for people from any business or industry that is intent on reinventing itself, people who know that "there's got to be a better way."

The workshop seems to serve well as the "human side of change" necessary for major culture change initiatives to embed - initiatives such as lean processes applied on the manufacturing floor or in business processes, Six Sigma, supply chain management, and global alliances.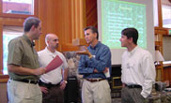 It is a powerful resource for union leaders and employee relations management as they seek to find ways to work together, each in support of their own constituents' driving interests and needs, but also recognizing their common interests in the continued health of the organization.

And it helps those in the marketplace - marketing, sales, customer support, sales engineering, contracts, finance, supplier quality, supply chain management - create value, craft better solutions together, build the working relationships that can deal well with differences, and look forward to working together again.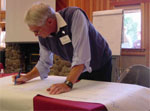 We are focusing on dedicated sessions and value stream or "counterpart matching" sessions. These can be internal counterparts - sourcing with operations, sales with engineering, union with management, etc. Or a session might be commissioned by a network of alliance partners or by a value stream of multi-tiered suppliers with immediate and end-user customers.

We will run two open enrollment sessions in 2018 - June 11-15 and September 24-28. These are our final open enrollment sessions. Should they go into serious over-enrollment, we will seek to find a way to satisfy the demand. We will continue to run dedicated sessions and to license the workshop and transfer the technology into client organizations. Both open enrollment sessions will be held at the Granlibakken Conference Center in Tahoe City, California. We cap each session at 32. To enroll, please click on "Application" and submit your information. Please indicate which session you are interested in attending. Please do not pay tuition at this time. If space still exists, we will send you an email confirming your enrollment. If the June session is full, we will ask if you would like to be put on a wait list for June, or to attend the September session, or both.